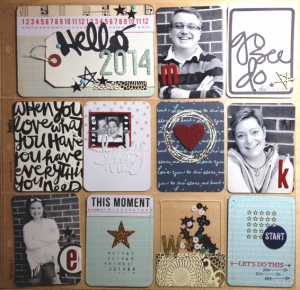 What is it about embarking on something new? I've been doing Project Life now for a full year! I am first: AMAZED that I stuck with it and (mostly) kept up — I still have 10 weeks of 2013 to scrap, but all but 3 weeks have edited and printed photos – I just need to carve some time out to get them done. And I will. Because it's a really cool thing…looking over an entire year and seeing what we do on a daily basis. We do some cool stuff. And some boring stuff. And some crazy stuff. And stuff I just simply wouldn't remember if I didn't scrap it. So, I will get those last few weeks done.
But, this post is about the NEW year. There's something positively giddy about making a title page. It's the first page people will see then they open my book. It's fresh and new and exciting. And, we may take a little extra time to create those sweet little cards that get packed in. In fact, I created 3 more that didn't make the cut LOL. But, I'll use them next week!
Primarily, I dug into my Studio Calico Project Life stash for the cards. I also made lots of cuts with my Cameo. Here's a closer look:
For the title card – the base is from the Valley High kit – I used some scrap sheet music to cover up the red bar at the top and tone it down a bit. Next, I added the tag and the "Hello" cut file from Kal Barteski for the SC August kit. The cut star is from the SC class "Cutting Edge." The alpha stickers are from Dear Lizzy.
I've always wanted to try to sew the page protectors…Except for a slight bobbin fiasco, it was surprisingly easy! The W is a Luxe sticker on top of some Karen Foster paper that came in the Outer Banks SC card add-on kit. The sequins are also from Studio Calico.
I chose the word "Do" for my 2014 One Little Word – so I dug out this cut file from last year's Day by Day class – the perfect fit. The stars (both kinds) are also SC. (Are you seeing a pattern here? I subscribe to their Project Life kit – and I just can't brag on them enough – it's an exceptional value – and I. Love. It.
This card has quite a bit of stamping – also from the Cutting Edge class – and the stars are from the Blue Note card kit from, you guessed it, SC. That fabulous Start flair came from the January kit – and it was the final touch I needed to complete my page.
I had a jar of WOW microbeads lying around and thought I'd add them to a cardstock heart I cut out by hand! You can do this too, by covering your shape with gesso – or ModPodge – and while wet, pouring the beads on top. Be patient! And let it dry completely before touching – you really can't fix mistakes! The circles around it is a cut file from Cutting Edge – and the background card is one of my all-time favorites (I'm a sucker for navy) – from the Planetarium kit.
I truly enjoyed putting this page together. There were so many fun elements to work with. I am so excited to begin another year on this journey.
Thanks so much for stopping by!