I don't know about you – but I get a little geeky about packaging. I often save cool boxes, bags, tins, etc. for the "someday" when I alter them for re-gifting or storage of my crafty supplies. I also am addicted to the dollar bins at Michaels and Target – often picking up neat little trinkets that would also be cool to alter in some way…over the years, I've accumulated quite the stash.
When I went on a cleaning spree this spring/summer – nothing in the house was sacred (except Emily's stuffies). I had to make some tough choices, but I whittled down my stash of "someday" projects to 1 bin plus a box of various sized canvases.
Since "someday" is so elusive, I decided to push myself to "craft my stash" on a semi-weekly basis and get through my box and bin. I took this little container I've had from Close to My Heart for at least a year – (probably longer, truth be told) … and cut strips of paper for all the potential projects in my basement.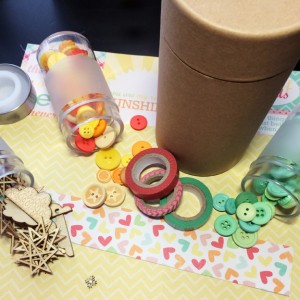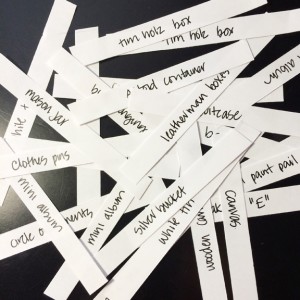 Every two weeks, I'll pull out a prompt and create something. I am so excited about the potential in that bin…I can see holiday gifts (or at least packaging) starting to form. I'm also excited to get inspired by that little slip of paper – challenging me to create something new – something out of my box.
I encourage you to take some time to craft your own stash – I'd love to see what you create! Have a great week.