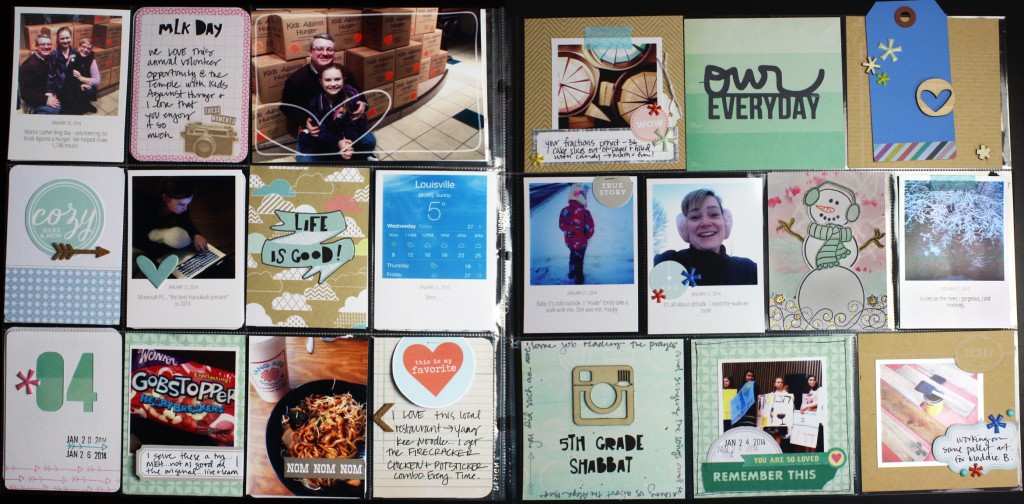 Week 4 was pretty chilly here in the 'Ville. Even so, I spent some time outside – but the snow wasn't packing snow, so the only snowman we made was this one for the insert card: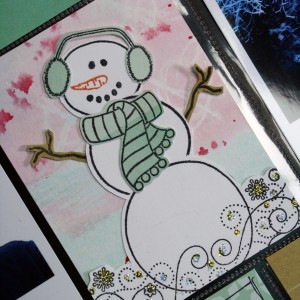 I dug out a reaaallly old Close to My Heart stamp set to construct this cute little guy. I added a few stickles in light blue – (although in the photo it looks gold)…to finish it off. The background paper I made using white crayons as a mask and then watercolored some gelatos on top. While the background was still wet, I added some Mr. Hueys in hot pink.
Overall, I used craft paper and teal as my color scheme with some blue and pink as accents. I pulled in bits and pieces from my Studio Calico kits – Copper Mountain, Cuppa, Double Scoop and Neverland. Additionally, I used some of the bits from the project kit: Jubilee. The craft paper mostly comes from Amy Tangerine and Echo Park (I've had that cloud paper for a year…waiting for just the right layout!)
I'm pleased this week, with the Collect app photos – I added some printables, labels and tags to them (all from SC), and I think that really helped with the flatness I struggled with last week. I also really like mixing the prints with traditional photos I print with my Selphy. I plan to incorporate these prints moving forward. Besides, I just really love the app: it reminds me every day to take photos – how cool is that?
Have a super week! Stop back by later this week to catch up with me and my One Little Word journey. I've photographed my work so far, but need to get the blog post done. Enjoy!