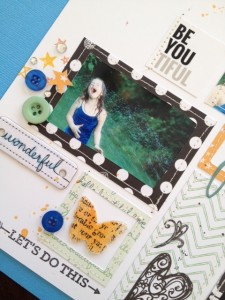 I love sketches, right? They offer great inspiration when you need that extra little push. A few weeks ago, I was totally inspired by a sketch over at the Studio Calico blog and I created this page based on that sketch.
It was a big leap for me:
I used the sketch that week AND uploaded my layout to the challenge gallery (and won! by the way :))
I incorporated digital elements onto my page. This is somewhat new for me – I've been using some digital elements in my project life pages – but using them on a traditional layout was new.
SEWING!!! My dear friend Amy A taught me how to sew on pages the weekend before I made this page – and it was my first attempt at sewing on a page. I LOVE IT and am totally addicted. I've always drooled over pages with stitched elements but was afraid to try it. I'm not a seamstress! I don't really know how to sew – and that held me back. But – NO LONGER! I now need to find space in my craft room to set up my machine permanently!
Here's the rest of the page: