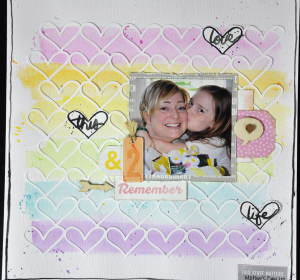 I'm in a heart mood. And since I don't have Valentine's photos to scrap, I dug out this photo from Mother's Day last year, my Gelatos and decided to create a heart background with my cameo. You can snag that .png file here.
I started out with some woodgrain white paper from Studio Calico and then added the rainbow background using my gelatos. Not familiar? They are an awesome little staple in my craft room by Faber Castell. And they are incredibly versatile – you can use them directly on paper, add water to them for a more transparent look, dissolve them in water to create mists…for this technique, I just colored a spot on my craft mat (Ranger), loaded up a wide paintbrush with water and grabbed the color and put a stroke across the page. Then I grabbed a smaller brush and splattered paint along the stripe.
For the black outline around the page and the lettering, I used my black NeoColor crayon. With the Life Scripted class going on over at SC – I want to make more cards with my handwriting – that bold black and white look is just so fun!
Enjoy your weekend – stay warm out there.