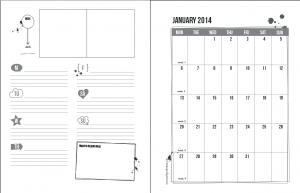 Download file: 2014 PL Workbook printable
Hey there and welcome!
With 2014 rapidly coming to an end, I'm looking to next year and thinking about what I'd do differently with my Project Life. One thing is my weekly journaling/calendar keeping.
I started Project Life last  year and created my own version of a calendar/journal to help keep me on track. While I loved what I created, I didn't have the experience to make ALL the right choices. So, with a year under my belt, I redesigned my workbook. I have a few girlfriends who saw it at the last crop I went to – and they went crazy for it.  Feel free to download for personal use – and share the link to my page with others you may think might enjoy this .pdf!
Here's what you'll find inside:
A monthly calendar view – starting on Monday
So, let me just say that last year, I designed my calendar to start on Sundays – even though I knew was going to do PL starting on Mondays. Looking at my week on a calendar and seeing Sunday at the start – ALWAYS threw me for a loop – LOL – call me a dork, but I couldn't wrap my head around where that day was supposed to go! So, this year, I just designed my calendar to start on a Monday.
The week listed on the calendar
Another "duh" moment – I didn't include the week on my calendar last year and ALL YEAR LONG I wondered "What week is it??" I'd find a photo on my husband's Facebook page or my daughter's Instagram and have to count weeks to figure out where it should go…NO MORE! Hopefully I counted the weeks correctly 🙂 – and all the time I will save not counting on my fingers can be better spent playing with my kits!
Blank weekly worksheets with spots for journaling, design notes and a blank sketch of your 12×12 pages help you plan your layout.
Last year, I put Design A on every page – and realized after the fact, that I wish I had just left it blank, as I enjoyed mixing it up a little with the page protectors. In 2014, I can easily draw in the grid for whichever page protector I'm using. Last year, I also gave each week a 2-page spread in my planner – which ended up being HUGE :). This year, I condensed each week to 1 page – and am confident that will be enough space.
You can print this file and 3-hole punch it – which I did last year – or you can spiral bind it – which think I may do this year to make it a bit smaller.
Hope you ENJOY this journal/planner/workbook- and good luck in 2014.